Because weekends embody so many things that make life awesome, the writers of The18 have taken up the task of dedicating three goals every week to a worthy cause. This week: Adriana Lima.
Ever since her World Cup commercials, Adriana Lima has earned herself a soft spot in the heart of The18 staff. But, alas, she is a supermodel who travels the world. She would never be able to settle down and have a normal relationship. Long distance relationships, like a long distance shot in the game of soccer, rarely work out, but every once in a while, one is successful. 
So, in honor of the distance between us and Adriana Lima, here are our writer's three goal-offerings for this week.
Bryce Badwan's Offering: 
Let's go over the pond to Scotland's U-19 match vs. Norway's U-19 national squads. Below we have an absolute screamer from Robbie Muirhead. Muirhead was born in 1996, which is as depressing as it is amazing, but it didn't stop the youngster from ripping this perfectly placed rocket past the keeper from around 40 yards. I also tip my hat to the fact that he even had the cajones to attempt such a shot. Job well done.  
Ivan Anich's Offering: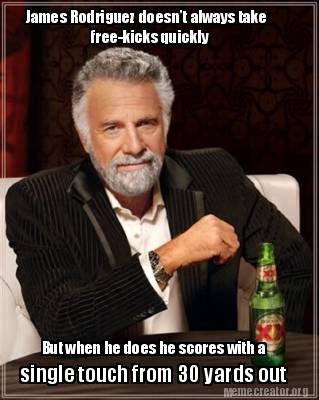 I rest my case.
Sam Klomhaus's Offering:
I'll let my goal speak for itself.
Bookmark/Search this post with